Behöver du hjälp?
Kontakta oss
Inline filters
Inline filters to remove contamination and oversize materials from your product
Russell Finex Inline filters for both industrial and sanitary applications offer an effective solution to your filtration requirements. Our Self-Cleaning Russell Eco Filter® improves your product quality by removing oversize contamination from 10 micron or above. Without the need for filter bags or cartridges and with significant reductions in wasted product over traditional filters, our range of industrial filters are both cost-effective and environmentally friendly, hence their name "Eco Filters".
The Self-Cleaning Russell Eco Filter® uses a unique SpiroKlene™ system which continuously cleans the surface of the filter element and ensures optimum filtration efficiency. This allows for high and consistent flows, which are ideal for filling operations and continuous production lines.
The range of Inline filters is designed for ease of operation and maintenance. They are simple to disassemble and clean without tools, allowing for fast and efficient product line changeovers, therefore increasing productivity. The units fit neatly into existing production lines, providing considerable filtration capacity without requiring excessive space.
Watch a test video showing the Self-Cleaning Russell Eco Filter in action
Models:
400 and 600 series: This model utilizes the unique self-cleaning functionality of the Russell Eco Filter® but with the inlet and outlet in the same plane. This makes them even easier to fit into existing pipework.
Horizontal orientation: The Russell Eco Filter® is available in horizontal orientation to suit different installations and to improve accessibility even further.
Inline filters options:
Liquid filter for sanitary applications
Russell Hygiene Filter
A high-specification Russell Eco Filter 803 designed for optimum cleaning, meeting the demands of the food and pharmaceutical industries where product quality cannot be compromised.
Find out more information:
Read case study
Contact us
High temperature filtration up to 250°C (480°F)
High Temperature Filters
Fully enclosed filtration of high temperature liquids such as resins and cooking oil to safeguard operators. Fitted with an offset drive, self-cleaning wiper system and heating jacket.
Find out more information:
Read case study
Contact us
High flow filtration up to 200,000 l/hr (50,000 g/hr)

Russell Eco Filter 900 series
The largest filter in the range suited to high flow applications such as effluent or water filtration, providing accurate filtration levels down to 25 microns and achieving flow rates of up to 200,000 l/hr (50,000 g/hr) whilst providing consistent high product quality.
Find out more information:
Read case study
Contact us
Russell Filter Management System
Continually monitor and control a liquid filter efficiently without operator involvement, resulting in reduced labor costs and increased productivity.
Find out more information:
Read case study
Contact us
Typical applications:
Material

Aperture Size

Capacity

Model

µm

kg/hr

lbs/hr

Liquid Chocolate

400

10000

22000

EF803J

Emulsion Paint

100

8000

77000

EF502

High Temp. Phenolic Resins

400

16500

36500

EF803DJ

Plastisol based coating

150

6000

13200

EF603

Offset Ink

50

3000

6600

EF803D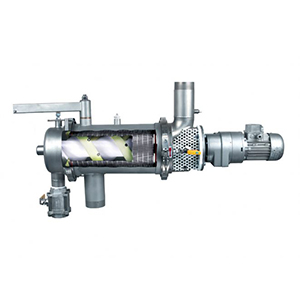 "Compared to our previous manual filtration system, the enclosed Eco Filters have allowed us to achieve good housekeeping and reduce labor costs."
Visen
Mr. V M Salunkhe